Oh yea! I am so late in getting the photos posted of my swap partner's mini paint can that she sent me. In May, I participated in Crystal's Altered Mini Paint Can Swap and JackieBault was my partner. I posted the photos of the can I created before I sent it off to Jackie, but I was out of town for a long while when hers arrived to me. It sat, all alone, silently…waiting for me to pick it up from the post office.
What a lovely gift to be waiting for me when I arrived back home. Unfortunately, I had some deadlines that I had to meet, along with a large yard sale planned so I didn't get the photos taken until this morning. In my opinion, not posting photos in a reasonable amount of time is RUDE! Photos of what you received in a swap is all part of the THANK YOU! and acknowledgment of all the hard work that goes into making something special for someone else. Jackie I owe you many HUGE apologies for my tardiness! I hope will accept my sincere regrets and that you will consider partnering with me again soon!
Take a look at my can and all it's goodies!!!!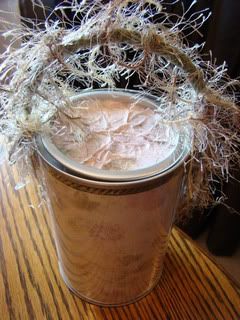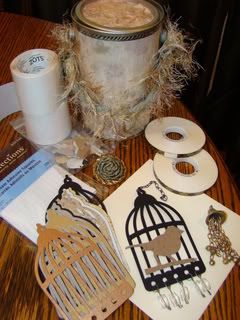 I just adore the Tim Holtz Bird Cage Die embellishment. How clever is that? Gives me all sorts of ideas!