We are coming to the end of our Jumpin' June Bug Swap over on the Cricut Message Board, so that means Blog Hop time! Since we were the Jumpin' Bugs…we are calling this little jaunt to each of our blogs a "Jump".
The above list of blogs are those of ladies who are participating in our Blog Jump and if you arrived here first, I encourage you to go back up to the start at Julie's place at
My Little Corner
, where you will find a wealth of creativity, and make your way back down to the bottom…which is right here!
You should have arrived here from Cammi's place at
Cuttin' Up
. Isn't she amazing?
Cammi is definitely a hard act to follow, but I present to you my Altered Paint Sticks that I created for yet another Cricut Message Board Swap. We took regular paint sticks and embellished them, sent them in to our hostess and we receive back everyone else's to make an album or display however we wish.
My sticks were inked with a yellowish-orange ink from Studio G and then covered with papers from My Minds Eye Home Glitter Book. I chose to embellish my sticks with sunflowers from the Tim Holtz Tattered Florals Die Set. After spritzing and inking them, I put them together with a glass bauble in the center and then adhered to the stick.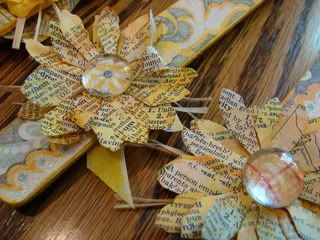 The reverse side of the stick was embellished with a silk flower with a center cut from coordinating papers. I used a crocheted lace on the end of the stick to hold a very tiny tag.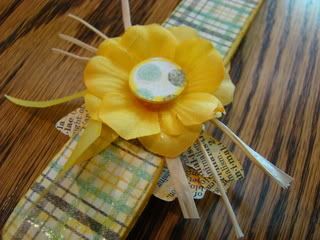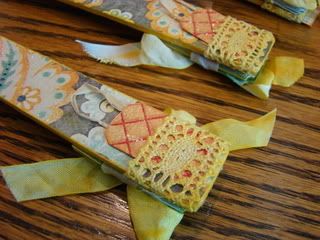 I cut a double set of Tim Holtz tickets and attached them with a ribbon on the reverse side.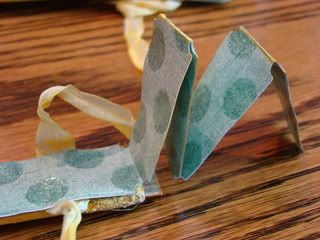 My set ready to head to their new homes….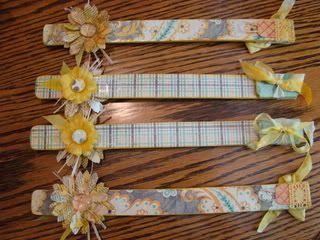 NOW FOR THE BLOG CANDY!!!!
You can't have a party without some yummy goodness, right?