The Oklahoma City Comfort Suites on I40 proved to be the perfect location for JMorgan and I to meet for our "crafting" adventures this past weekend. JMorgan is going to be a Resident Assistant at her college this next semester  and she was wanted to create some very special door name tags to welcome each of her (105) students.
I arrived from Kansas midday and JMorgan arrived from Texas early evening. She had a slight bit of directional difficulty that resulted in a momentary bit of anxiety. With an armload of heavy items, seems she arrived at someone else's room (in a different hotel). In her defense…the two hotels appear to share the same parking lot and do not look too architecturally different.
We have stayed at this Comfort Suites before, but never in a room with this configuration of  three queen sized beds (with the most comfortable mattresses ever) and ample room to set up a couple of tables to craft.
ROOM WHEN WE ARRIVED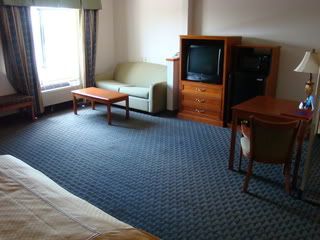 *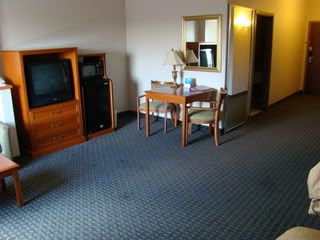 IN the THROWS of CREATING
and you know I HAD to spend some time (and $$) at Michaels and Hobby Lobby while in OKC…right?
Both of my cricuts were working non-stop through a good portion of this adventure and the two small hotel trash cans just could not keep us with us. This pile of paper ultimately came home  with me so I could salvage some of the larger unused portions.
These 12 x 12 sheets of cardstock are  actually pink, teal and black, but you could never tell it by the distorted colors from my camera. In all fairness to my beloved Sony….the room was fairly dark and I didn't use a flash. (*****Mental note to self…bring an extra Ott Light!)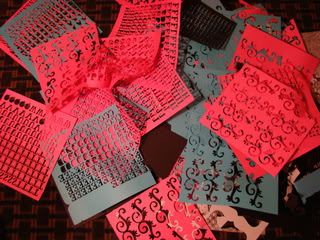 This is what 120 college resident door tags like at 4:30 A.M.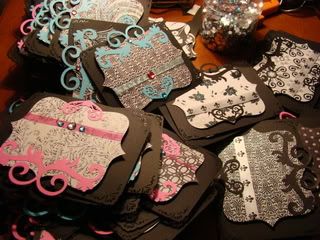 Packing up to go home….the first of four loads for MY car….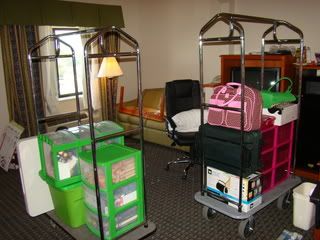 And the Mother ~ Daughter Scrap Retreat comes to an end…
If you figure in all of the expenses associated with these door tags, the per tag cost is probably around  $5 each….
Three Nights Hotel ~  $335
Travel from Kansas and Texas to Oklahoma City ~  $130
Meals ~ $165
Supplies ~ $who knows really?
Adventures with oldest daughter PRICELESS!
JMorgan on her way back to college…..