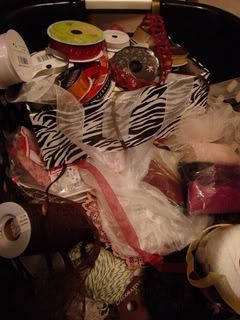 Help! My Ribbons Over-Floweth! How in the world did it come to this? How did five or six rolls of ribbon and trim turn into this? In an attempt to have all ribbons in one place and color coordinated, I removed them from their round thingies (real technical word there for spool, right?). The rounds were taking up too much room, and I had nothing that was big enough to hold it all…much less have it organized.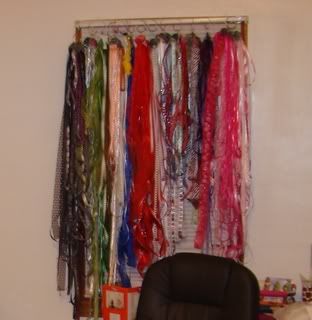 If you saw my scraftin' room youtube then in the very first photos of my mess of a room, you saw all the ribbon hanging from a window treatment rod. That wasn't working for me, so I hung them inside a cabinet. Eventually, I came to the conclusion that was a total waste of very useable space…so back to the drawing board (youtube) I went. Seems a lot of ladies store their ribbon hanging just like mine, but why does theirs look so cute and mine looks like a flippin' mess?
I started adding them to self-adhesive hooks on the side of one of my cabinets (NO wall space) but soon realized it was not going to be wide enough to hold all my color choices. My dressform has been standing in as a holder for a short while, but that is NOT what I had intended when I purchased her.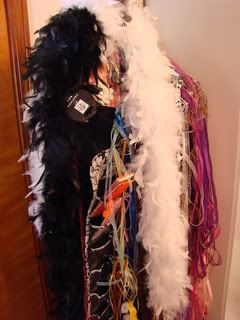 So, here I am, just a simple scrafter…coming to you… my few readers… to help me solve my dilema. What should I do? How do you store your ribbon and trim? Am I a total hoarder? With no hope of organization? I throw myself upon the mercy of blogdomhood and hope that I will be blessed with a (inexpensive) solution….very soon!