Don't you just love blog hops? All the creativity oozing from pages grouped together for your enjoyment? All that blog candy waiting to be won?
Well, this Blog Hop is no exception. We have ten very talented ladies sharing their creations for the Cricut Message Board Dress Form Tag Swap from this month. You may have arrived here from Jenn's Blog, Scrapping Under the Influence. Don't you just love that name? I would love it even better if I had thought of it for myself..haha! S.U.I…LOVE it!
Here are the links to each of the Dressed to the Nines Blog Hoppers…
Simply My Crafts
I had so much fun creating my tags for this swap, but not near as much as I did "hanging out" with all of the participants.
My first tag is from the Halloween Category. The Mummy is wrapped in cheesecloth and I cut a little bat from some trim that I purchased at my local scrap store.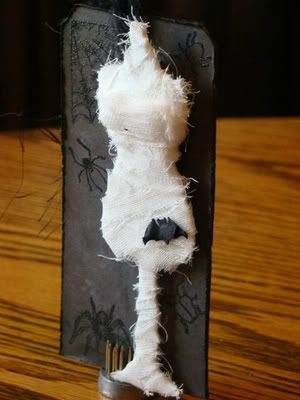 This second tag is for the Designer's Choice category and sports an adorable apron cut from the Paper Dolls for Everyday Cricut Cartridge. Purple is the color of the day with the ribbon matching the gingham paper used for the apron.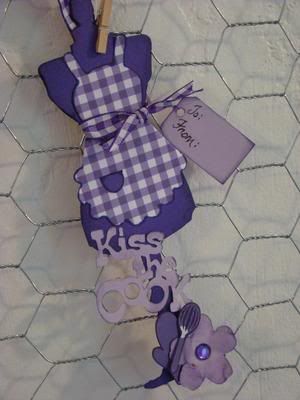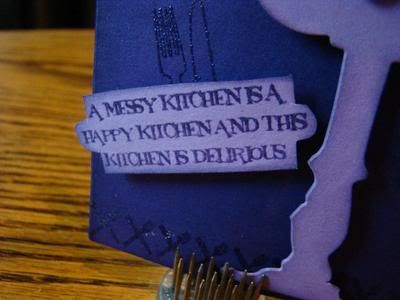 My favorite of the three tags and the one that I spent the most time researching, inking, distressing, embossing, and decopauging is another Designer's Choice member. Vintage Fly-Fishing is alive and well on this tag.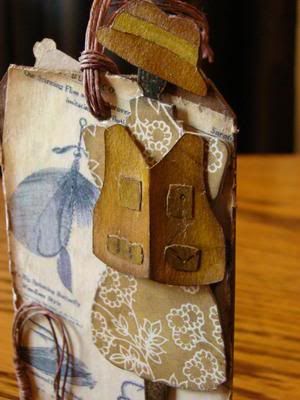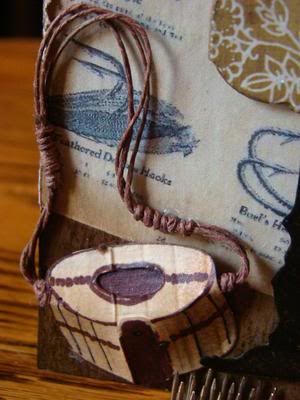 The vest and hat both came from the Paper Dolls for Everyday Cartridge. I found the vintage magazine graphic online and decoupaged it to the tag prior to adding the Tim Holtz Sewing Room Dress Form.
The back of this tag includes frames cut from the Mothers Day 2010 Cartridge. Each of the vintage photos of women and their catch for the day were found online. Each was printed and then inked with Tim Holtz Vintage Photo Distress Ink to give them an aged look.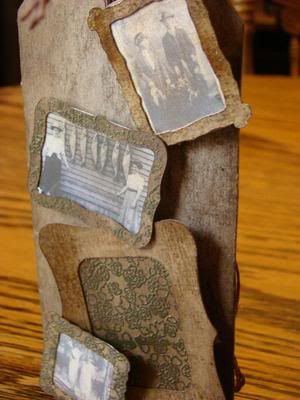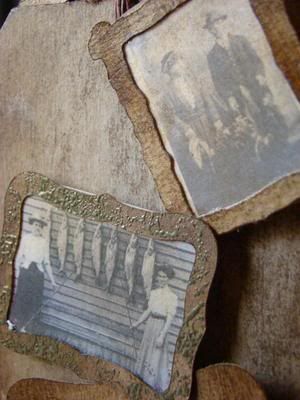 I am so lucky to have a Guest Designer join me on my blog for this blog hop. You will see Cindy32 further down in our blog hop line-up, which will bring you back to Simply My Crafts for another look at all that she has created. This is my first time to swap with Cindy. I am so very happy she joined us and I am looking forward to CMB swapping with her again.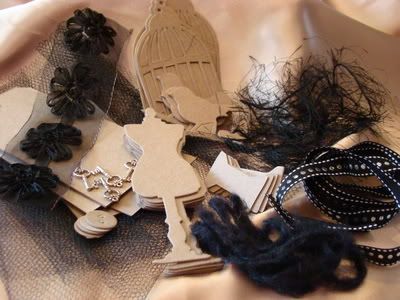 So, what's a Blog Hop without Blog Candy? Of course, we have candy…a set of die cuts from the Tim Holtz Sewing Room Set, the Sizzix Movers and Shakers Tag/Boolplate Die by Tim Holtz, and the Tim Holtz Birdcage Die with a bit of other goodies thrown in for good measure. First let me tell you what you have to do for a chance at winning. You will receive chances for each of the following steps. First and foremost, leave a comment here for your first chance. Gain other chances by completing the next steps and coming back to leave another comment telling me which of the other steps you completed.
So here they are …
1. Comment on this post.
2. Google Friend/Follow this Blog
3. Like my Simply My Crafts Page on Facebook.
4. Become a subscriber on my YouTube Channel.
5. Leave a comment on each of the blogs in this Blog Hop. (Worth 2 Extra Chances!)
6. Comment again to tell me which of the above steps you have completed.
So that is seven…count them…up to SEVEN chances you have for winning!
So after commenting here, you must RUN…not walk…to your next stop along the way to Lil Red's CraftinHood, where you will find the most amazing dress form tag.
Thanks for stopping by and I hope you enjoy your journey through the remainder of our Dress to the Nines Blog Hop.