Recycling should be a part of everyday life, but I have to tell you that my friends thought I was nuts when I asked them to save their empty toilet paper rolls for me. Then they KNEW I was crazy when I said I wanted them to make a TP Mini Album for a swap on the Cricut Message Board. Their visions of my craziness came on multiple levels for they could not conceive why I would be part of anything to do with CRICKETS (though most know that My Hero's degree is in wildlife biology) and then there was the other of consideration of making something from TP rolls.
In the swap, we were paired up with another cricut board member to make these tp mini albums for each other. My poor swap sister is going "blind" on mine because I threw too many likes at her and then told her I would like anything. Then it's "double-poor" swap sister in that she has ME for her ss.
She said she loved pink and green….oh…yeah! I LOVE pink and green! That was going to be easy right? And she loves butterflies…yeppers…this is going to be a piece of cake. YEP…it would all be easy-peasy if it were not ME that was putting it together..hardy har.
I loved shopping…butterfly this and pink that…ohhhh and some lovely bling….she ADORES bling! All the while I was shopping I was telling myself that this was going to be the loveliest tp mini album EVER. haha!
Reality hits!
Have you ever had a panic attack…you know….when you realize that everything you were doing or planning was monumentally wrong? (pathetic laugh inserted here) What? How could this be?
Nothing matches…not the pretty pink butterflies, not the lovely pale pink papers…lovely delicate lace…even the hue of the ivory laces did not blend with the papers or embellies chosen.
Oh my goodness!
Well, I pulled myself up off of the floor and did what I love best and that is head off to Joann's, Michael's, Hobby Lobby and a new found love…Frozen in Time…A Scrabooking Boutique.
With embellies and papers in hand, I searched for the perfect mates for one or the other. That should be simple right…and if I can't figure it out myslef I will solicit the assistance of one of the employees. They work in an artsy environment….they should have a sense of design…right? (The answer to that will ultimately be located in another post at a later date.)
What I discovered on this trip was that not all pink are created equally…this one was too peachy…that one too orange…too bright…too ugly…and the list goes on. So what does any seasoned (or less salty) scraftin' trooper do? She starts over with another plan for success.
My plan came in the way of a DCWV Mariposa stack…definitely not the color choices I was hoping for, but lots and lots of elegant butterflies! So, with a new stack under my arm and some new metal embellies in tow,
I headed home to explore my new choices…and this is the result.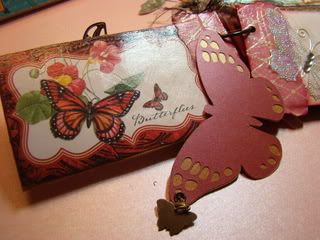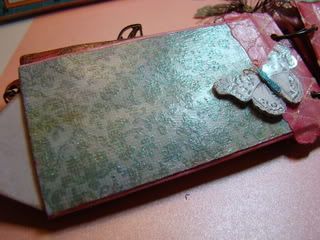 Making a TP mini album is not a new concept to me, but I did try some new techniques on this creation. First off I added a folded top note to the end of the roll to give more room inside and then after viewing a similar album on YouTube, I added Mod-Podge to make the album a bit sturdier. I inked all the edges of my papers, top note and the roll for some depth. I also cut my cover papers longer so that I could tuck them
back inside the rolls for a more finished edge.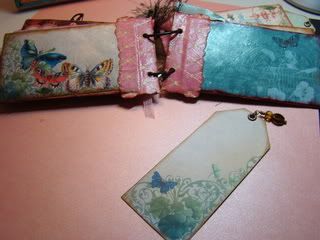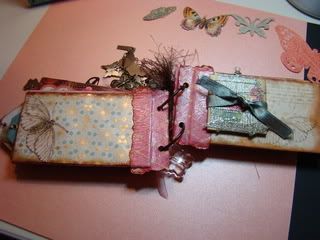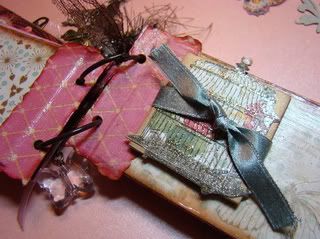 Once the rolls were covered, I decided to add a couple of accordian type mats (something new for me). One is just a folded rectangle hidden beside a cage cut out from the paper. The other is a butterfly that
I cut out with my Cricut. Using my Gypsy, I welded the butterflies together and then folded them. My most favorite in the "new things tried" category is the accordian file added to the back of the album, which is made from cut down coin envelopes.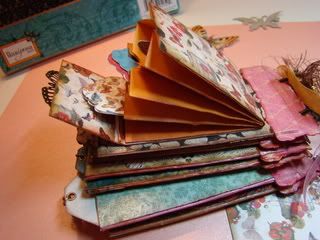 Even though is it very far removed from my original vision, I hope that my SS likes the album that I created for her. This is my very first time to work in such depth on something and send it off as a gift. I am a nervous Nellie!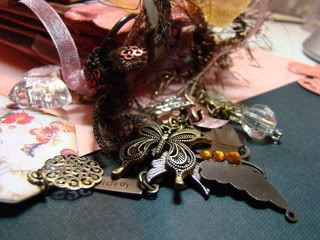 My YouTube Video….